✓

Deal directly with owner/operator, not sales reps.

✓

Specialist made-to-order steel wheels & rims.

✓

Commitment to provide quality products at affordable prices.

✓

Problem solver
Product Of The Week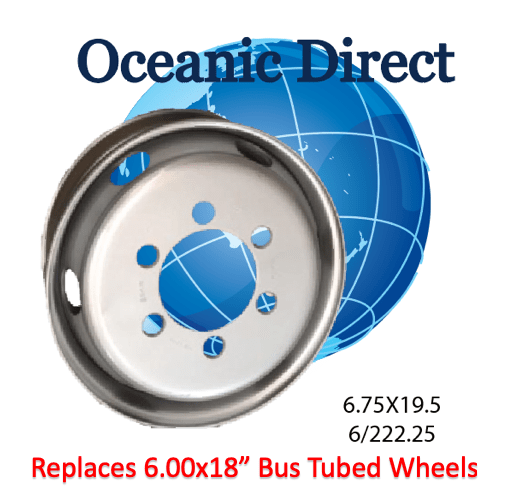 6.75×19.5 6 Stud Bus / Motorhome Wheel
Sick of looking for 7.50R18 Tyres for your Hino Rainbow, Mitsubishi Fuso etc as there is nothing available?
Oceanic Direct has a Wheel Conversion available these wheels available.
6.75×19.5 6/222.25 Japanese Truck and Bus fitment.
These steel silver wheels / rims have a massive rear mounting face flat clearance of 365mm, this in most cases will not foul the brake drum.                There are some wheels around that don't have this clearance.
Already supplied Mitsubishi Fuso Aero Middy and Hino Rainbow RR172 motorhome buses with these wheels
Note Nissan N40 will need a slight brake drum modification
We can also recommend and supply the correct tyre replacement size to suit your needs.
ENQUIRE NOW
CALL NOW
About Oceanic Direct
We source wheels, tyres and associated accessories using our extensive local and international supply network.
Our reputation has been built on 30+ years of industry knowledge, as an importer, wholesaler and retailer in the
Australian wheel, tyre and associated accessories market.
We offer an honest approach to providing quality products and personal service to our customers.
We pride ourselves on honesty, integrity and respect of our customers and suppliers.
Leading Tyre Manufacturing Brands We Work With
We offer a wide range of 4WD, truck and trailer tyres from leading trye manufacturing brands like Pirelli, Bridgestone, Michelin, Windforce, Triangle, Carlisle, Maxxis among others. All of these truck and trailer tyres are available for purchase and delivery. Our transport logistics are offered Australia wide and we are happy to deliver the tyres right at your place.