✓

Deal directly with owner/operator, not sales reps.

✓

Specialist made-to-order steel wheels & rims.

✓

Commitment to provide quality products at affordable prices.

✓

Problem solver
Product Of The Week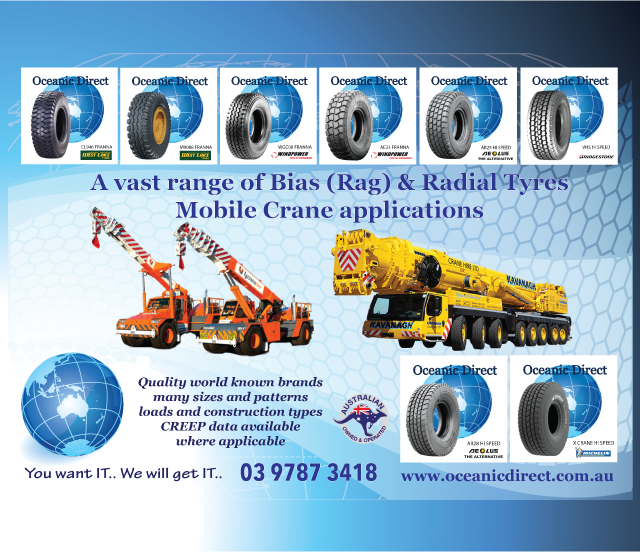 Hi Speed Mobile Crane Tyres
Mobile Hi Speed Crane Tyres available from Oceanic Direct
to suit many brands of Crane used in Australia
Terex Franna, Tadano, Liebherr LTM, Humma, Zoomlion,
Demag, Grove, Kato.
some of the sizes available
Bais 10.00-20 * 11.00-20 * 12.00-20 * 14.00-20 * 14/80-20
Radial 10.00R20 * 11.00R20 * 12.00R20 * 14.00R20 * 365/80R20
14.00R24 * 14.00R25 * 16.00R25 * 17.5R25 * 20.5R25
385/95R24 * 385/95R25 * 445/95R25 * 525/80R25
Major know brands –
Radial
Michelin:- XGC * X Crane * X Crane+ *XMH
Aeolus/ Windpower:- WGC08* HN08 * WGR29 * AE33 * AR25 * AR28
Bridgestone:- VHS
BKT:- Airomax AM27 * AM543
Double Coin:- Rem8 *
Advance:- GLB05
Bias
Westlake/ Chaoyang:- CL946 * CL908 * M9088
Creep Data available for Franna tyres
☆ Coming soon 365/80R20 tyres – backorders taken
Leading Tyre Manufacturing Brands We Work With
We offer a wide range of 4WD, truck and trailer tyres from leading trye manufacturing brands like Pirelli, Bridgestone, Michelin, Windforce, Triangle, Carlisle, Maxxis among others. All of these truck and trailer tyres are available for purchase and delivery. Our transport logistics are offered Australia wide and we are happy to deliver the tyres right at your place.
About Oceanic Direct
We source wheels, tyres and associated accessories using our extensive local and international supply network.
Our reputation has been built on 30+ years of industry knowledge, as an importer, wholesaler and retailer in the
Australian wheel, tyre and associated accessories market.
We offer an honest approach to providing quality products and personal service to our customers.
We pride ourselves on honesty, integrity and respect of our customers and suppliers.