✓

Deal directly with owner/operator, not sales reps.

✓

Specialist made-to-order steel wheels & rims.

✓

Commitment to provide quality products at affordable prices.

✓

Problem solver
Leading Tyre Manufacturing Brands We Work With
We offer a wide range of 4WD, truck and trailer tyres from leading trye manufacturing brands like Pirelli, Bridgestone, Michelin, Windforce, Triangle, Carlisle, Maxxis among others. All of these truck and trailer tyres are available for purchase and delivery. Our transport logistics are offered Australia wide and we are happy to deliver the tyres right at your place.
About Oceanic Direct
We source wheels, tyres and associated accessories using our extensive local and international supply network.
Our reputation has been built on 30+ years of industry knowledge, as an importer, wholesaler and retailer in the
Australian wheel, tyre and associated accessories market.
We offer an honest approach to providing quality products and personal service to our customers.
We pride ourselves on honesty, integrity and respect of our customers and suppliers.
Product Of The Week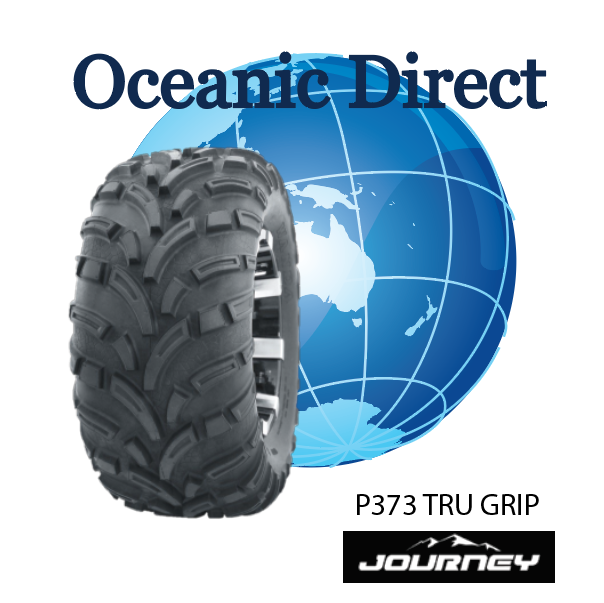 JOURNEY ATV P373 TRU GRIP ATV, SIDE BY SIDE, QUAD BIKE TYRE
WHY THE JOURNEY P373
When heading into sticky, slippery, or muddy terrain you want a tyre that will bite and help pull your vehicle through, and that's exactly what you get with the Journey P373 tyres. Deep lugs and aggressive pattern not only grip and claw through the rough stuff, but the spaced lugs and tread pattern promotes self-cleaning; easily keeping rocks, mud, and other debris from getting lodged between the lugs. The cutaways in the middle of the lugs help free up weight while also giving extra bite. The claw-like, crossover, center pattern helps provide a smooth and quieter ride.
6 ply rated quad/side-by-side utility tyre
Directional tread pattern with 15.2mm tread depth
Durable, lightweight design provides quicker acceleration and braking
Deep lugs and aggressive tread pattern provide great traction
Wide spaced lugs and tread pattern promote self-cleaning
Cutaways in the middle of the lugs help free up weight while also giving extra bite
Super smooth ride in both soft and hard packed terrain
Ideal tread for O.E.M replacements
This quad/side-by-side utility tyre is tubeless