✓

Deal directly with owner/operator, not sales reps.

✓

Specialist made-to-order steel wheels & rims.

✓

Commitment to provide quality products at affordable prices.
Product Of The Week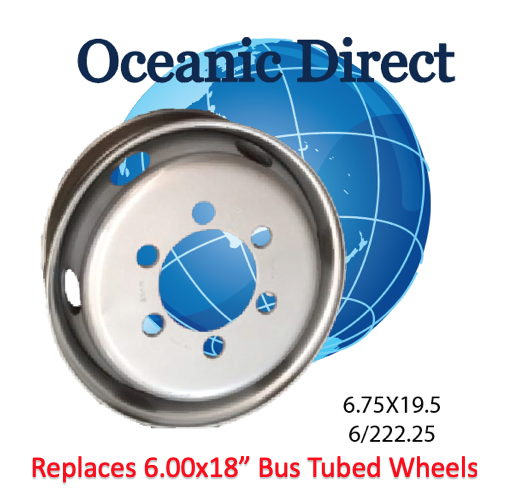 6.75×19.5 6 Stud Bus / Motorhome Wheel
Sick of looking for 7.50R18 Tyres for your Hino Rainbow, Mitsubishi Fuso etc as there is nothing available?
Oceanic Direct has a Wheel Conversion available these wheels available.
6.75×19.5 6/222.25 Japanese Truck and Bus fitment.
These steel silver wheels / rims have a massive rear mounting face flat clearance of 365mm, this in most cases will not foul the brake drum.                There are some wheels around that don't have this clearance.
Already supplied Mitsubishi Fuso Aero Middy and Hino Rainbow RR172 motorhome buses with these wheels
Note Nissan N40 will need a slight brake drum modification
We can also recommend and supply the correct tyre replacement size to suit your needs.
About Oceanic Direct
We source wheels, tyres and associated accessories using our extensive local and international supply network.
Our reputation has been built on 30+ years of industry knowledge, as an importer, wholesaler and retailer in the
Australian wheel, tyre and associated accessories market.
We offer an honest approach to providing quality products and personal service to our customers.
We pride ourselves on honesty, integrity and respect of our customers and suppliers.
Leading Tyre Manufacturing Brands We Work With
We offer a wide range of 4WD, truck and trailer tyres from leading trye manufacturing brands like Pirelli, Bridgestone, Michelin, Windforce, Triangle, Carlisle, Maxxis among others. All of these truck and trailer tyres are available for purchase and delivery. Our transport logistics are offered Australia wide and we are happy to deliver the tyres right at your place.
Important Information
Freight & Logistics

Transport Logistics offered Australia wide, we are happy to offer and assist with coordinating the freight to your desired location. The Purchaser shall be responsible for freight costs and insurance and from the time of dispatch of goods from the nominated warehouse. We do offer freight free delivery in Metro Melbourne for 4 or more items, conditions apply.

Payment

Payment shall be made in full prior to delivery unless the Purchaser has an approved Credit Account with the Seller, Payment shall be made prior to dispatch by electronic funds transfer to the Sellers' nominated bank account. Credit Card payments: All Visa and MasterCard payments will incur 1.75% transaction fee for amounts greater than $500.00 AUD

Warranty

The Purchaser accepts the warranty and guarantee of the Wheel, Tyre and Associated Accessories Manufacturer as stated in the manufacturers warranty terms and conditions, is the only warranty and guarantee given to the Purchaser in respect of the Goods purchased through the Seller.

Product Recommendations & Pricing

Before offering any product we ask our potential or existing clients a series of questions and listen to their needs and wants, this allows us to select the correct product to meet the requirements of the customer, These include the correct load rating, speed rating, tyre size, compound and pattern to ensure the right tyre is offered or with wheels and rims the correct size, offset and load rating and finish is offered to the customer. We will not recommend any products which do not meet the legal requirements for use in Australia. We believe in offering quality brand products at an affordable price, when you buy from Oceanic Direct you are buying from the owner operator, an Australian living in your community. The pricing offered by Oceanic Direct will be valid during the current calendar month, or whilst current stock on hand is available. Please contact us direct to confirm pricing at the time of purchase.

Custom - made to order steel wheels

When a specific application or replacement steel wheel or rim is required we will require measurements and or specific information from you. This information provided from you will ensure the replacement or specialised wheels or rims meets your specific requirement. All Custom – made to order, wheels and rims is carried out by qualified wheelwrights from the highest standards materials and meet the Australian welding standards ofAS1554. Custom – made to order wheels, are non returnable or refundable items, we confirm the specifications before any order replacement and a 50% no refundable deposit is required upon order and the outstanding balance is required to be settled before dispatch.

Information Provided

Although every care is taken to provide correct, thorough, and current information; please be sure to confirm details, photos, specs etc. as per your requirements for ease of transaction. To the best of our knowledge, the information contained herein is accurate and reliable as of the date of publication; however, we do not assume any liability whatsoever for the accuracy and completeness of the above information, please ensure to verify specifications, details of required products before making final transaction.