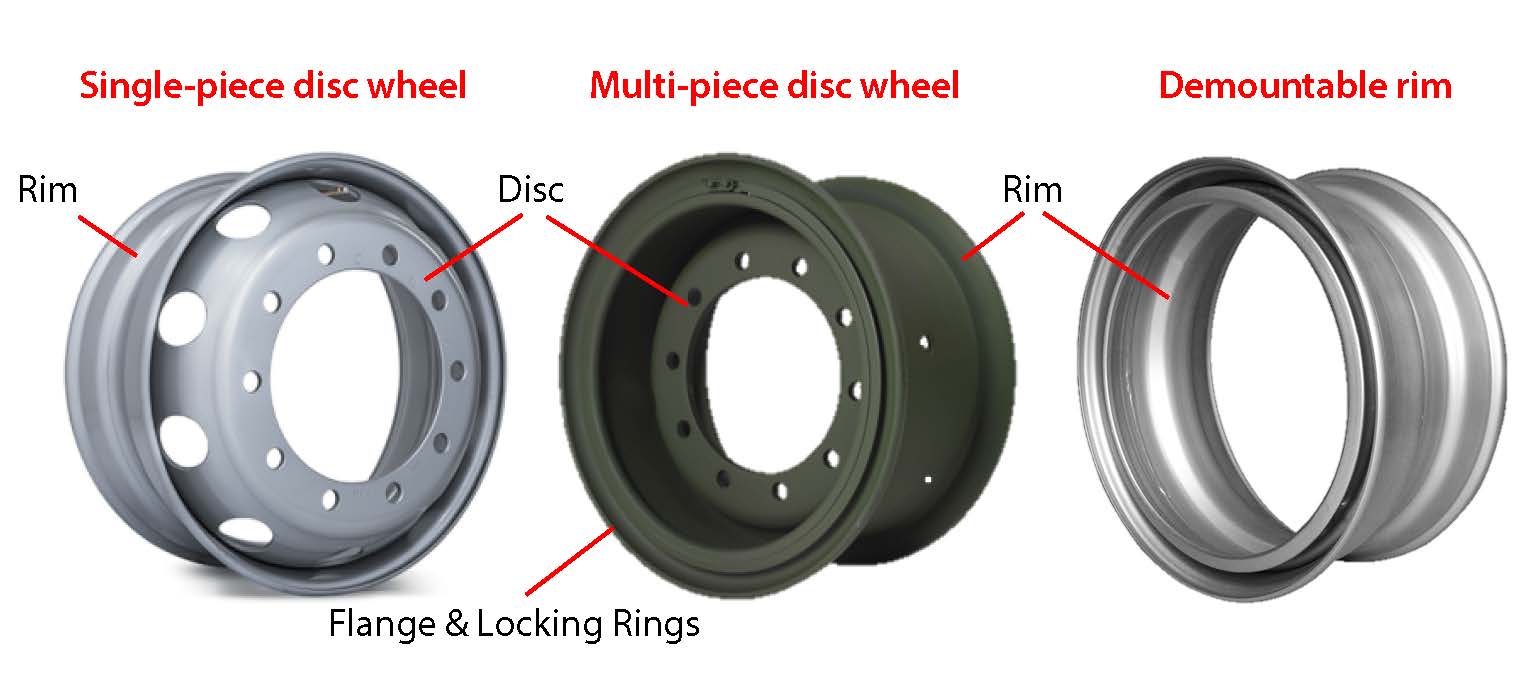 The terms Rim, Disc and Wheel are often confused in daily life. In order to omit confusion it is important to understand difference between those definitions.
Wheel is a rotating component of the vehicle, which carries load of the vehicle and passes the torque. The Wheel is located between tyre and hub on the axle. Most of the steel wheels manufactured now days consist of rim and disc assembled together.
Rim is a part of the wheel which serves as seat for the tyre. According to standard practice across the world, all rim sizes are given in inches. Rims can be classified in two groups: multi¬ piece and single-piece rims are mounted onto the vehicle via a (Spider) spoked hub on an axle. They are commonly called a Spider or Demountable rim as they have no centre.
Single-piece rims have one-piece rim design with a welded band which sits on the spider hub and attached by cleats, nuts and with a dual assembly a spacer band is positioned between the rims. These are normally for tubeless tyres.
Multi-piece rims consist of rim itself and loose mounted flanges and locking rings on the rim. They are attached by cleats, nuts and with a dual assembly a spacer band is positioned between the rims. These are normally used with the older style tube type tyres or in some earthmoving and off the road applications an O.ring is placed in a groove to seal the space between the tyre and the rim with tubeless OTR type tyres.
Disc serves as a connection part between rim and hub [break drum/disc break] of the vehicle and is either welded or connected with bolts to the rim. Single piece tubeless type have a disc welded in to a rim making them a wheel or a Multi piece tube type have a disc welded in to a tube type rim making them a multi piece wheel. They either a flat or shaped plate centre with various centre bore (hole in the middle) and wheel hub pitch centre diameter known as the PCD. They are commonly known as Disc wheels, 6 stud, 8 stud and 10 stud wheels are some of common PCD's. They are mostly a Hub mounted wheel using self locking nuts but in some cases still have a Stud mounted centre using tapered nuts to attach to the vehicle.
10/285.75 PCD with a centre bore hole of 221mm which is American hub fitment
10/335 PCD with a centre bore hole of 281mm which is European hub fitment and some Japanese also
6/222.25 PCD with a centre bore hole of 176mm which is Japanese hub fitment for small to medium size vehicles
Feel free to contact Oceanic Direct to discuss your Wheel and Rim requirements,
We also do 'Custom' made to order steel wheels and rims.
Related Stories
Off-the-Road (OTR) vehicles can be driven on and off gravel or paved surfaces. They generally have large tyres with deep, open treads and flexible suspensions. In comparison, vehicles such as tractors, cranes, bulldozers, forklifts, and ...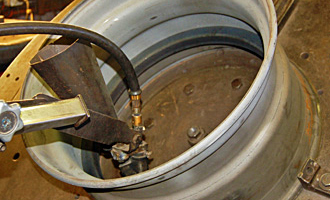 With Many years of experience in the wheel and tyer industry, I've been able to assist many customers small and large with their individual wheel requirements. Forklift, Industrial load, Tractors, Farm equipment, Plant equipment and ...